Evernote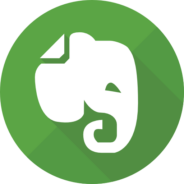 Windows 7, 8, 10, 11

Version:

10.47.7.3730

Size:

252MB
When you come across an interesting content on the web, instead of relying on the bookmarking functionality of your browser, use Evernote. It is an amazing note taking software, but it is better suited to clip content from the web.
The things you can do with Evernote depends on the subscription plan that you choose. Currently there are Evernote Free, Personal, Professional, and Teams. Whichever plan you go for, you are required to create an Evernote account.
Features and Highlights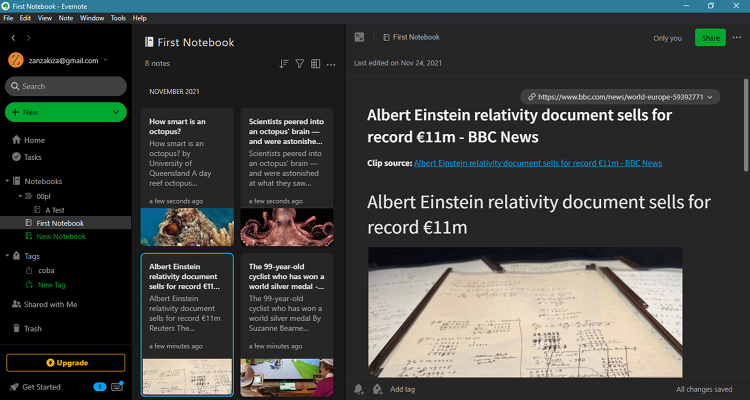 Clip web pages
Anything that you see on the screen when you browse the web can be captured by Evernote. There are 5 clip formats available: Full Page, Article, Simplified Article, Bookmark, and Screenshot.
When you come across a web page that cannot be saved in text format, you can save it as a screenshot in Evernote. After taking a screenshot, you will be presented with a list of tools to annotate the image.
Evernote saves the clipped content online and then syncs it to your device. If you are a free user, you should pay more attention when clipping a web page since there is an upload limit. Each month you can only upload no more than 60 MB.
Organize notes
Each note is stored in a notebook, and notebooks can be grouped in stacks. Each note can have one or more tags so that you can organize them better.
Notes are displayed on the sidebar. The default view mode is Cards that you can change to Side List, Top List, or Snippets. Notes can be filtered out based on tag, content, note location, or date.
Additionally, the sorting options let you manage the order of the display based on when the notes are created or updated, as well as based on the titles.
Sync notes between devices
Whether it is a simple text note, a screenshot, a PDF, or anything else, Evernote always sync your notes, but the free plan only allows up to 2 devices to sync to each other. To sync unlimited devices, you should at least upgrade the free plan to the personal one.
Templates
If you don't have time to create a note from scratch, there are many templates you can use. The ones that are always shown when you create a new note are to-do list, daily reflection, and reading list. The hidden ones are Weekly Plan, Essay Outline, Lecture Notes, Meeting Notes, Project Plan, and more.
Search notes
Evernote has an impressive search functionality. Thanks to its powerful optical character recognition (OCR) technology, it can search for text strings in images and scanned documents.
Evernote Free Download for Windows
Evernote is not as good as it was in the past. Some nice features that used to be available for free are now parts of the premium plans. For example, the ability to clip web content directly to the local device. However, the current Evernote is still a good alternative to consider if you need a way to collect stuff from the web. The web clipping feature is simply the best among its kind. You can click the link below to download Evernote for Windows:
Editor: Clifford
App Info
App Name Evernote
License Freeware
Publisher Evernote Corporation
Updated Jan 10, 2023
Version 10.47.7.3730
High-quality software downloads
Anturis.com is your trusted source for software downloads.