Victoria SSD/HDD

Windows 7, 8, 10, 11

Version:

5.37

Size:

1.50MB
A hard drive will eventually broken. However, no one knows when it will happen. It could be years after you bought it. It could be a few days after. While it is not possible to find out the exact date, it is possible to know if your hard drive is failing. Victoria SSD/HDD helps you track the performances of both your HDD and SSD drives.
You can tell when a hard drive is failing without using a software. However, tools like Victoria SSD/HDD is able to provide a detailed analysis of what actually happens to your hard drive. And if it gets some bad sectors, the software is also capable of dealing with them.
Features and Highlights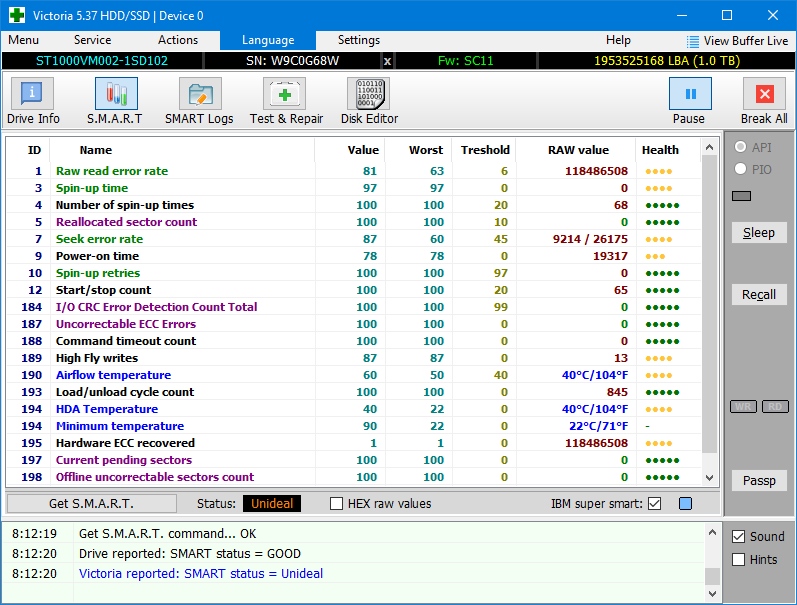 Victoria SSD/HDD provides you with loads of information regarding your hard drives as soon as you launch it. There are several menus and tabs. The first one that appears is the Drive Info tab that lets you know the hard drive's model, serial, total capacity, firmware version, sector, cache, and so on.
Still in the same tab you can see your hard drive's temperature, the features that the hard drive supports, the speed information, the connector, the number of partitions, and the total size of each partition.
Next to it is a tab called S.M.A.R.T which shows your hard drive status. Every hard drive has this built-in monitoring system known as S.M.A.R.T. Victoria SSD/HDD retrieve the report from the system and then displays it where you can see many attributes with their values.
Each attribute has its own health value too. The healthy attributes are marked with green dots, while the less ones are marked with yellow dots.
Victoria SSD/HDD has two types of analyses to report the overall health of your hard drive. If you look at the screenshot image above carefully, you will notice that the S.M.A.R.T status is good as reported by the drive, but it is "unideal" according to the Victoria's analysis.
Unideal means that the state of the drive is not ideal but there is no serious problem that you should worry about. If you're still worried nonetheless, you can always cross-check the analysis with similar tools such as Hard Disk Sentinel and CrystalDiskInfo.
The Test & Repair tab in Victoria SSD/HDD is the section where you can perform an analysis to find out if your hard drive suffers from bad sectors and optionally ignore, restore, or remap them. The Erase option should be used only by experienced users as it can damage the drive if used incorrectly.
Victoria SSD/HDD Free Download for Windows
Finding out the problems in your drives as early as possible is crucial in saving your data. The earliest you get the information, the more time you will get to prepare for the disaster like making a full backup and buying a new drive for replacement.
Victoria SSD/HDD is one of the tools out there that you can add into your arsenal of disk tools for anticipating the worst. Not only it tells you about the drive's condition, it also provides the means to repair bad sectors. You can click the link below to download Victoria SSD/HDD for Windows:
Editor: Clifford
App Info
App Name Victoria SSD/HDD
License Freeware
Publisher Victoria SSD/HDD
Updated Jun 17, 2023
Version 5.37
High-quality software downloads
Anturis.com is your trusted source for software downloads.