Cheat Engine
Windows 7, 8, 10, 11

Version:

7.4

Size:

3.2MB
While there are many gamers who welcome challenges, there are also plenty of people who simply want to have fun without spending too much time in dealing with difficult challenges. Among many methods to cheat, there exists an interesting piece of software named Cheat Engine.
It can make some modifications to the games you play. The modifications can make the games easier or harder to win. Some users also take advantage of its capability to fast forward boring game intros so that they can get into the real action as soon as possible.
Features and Highlights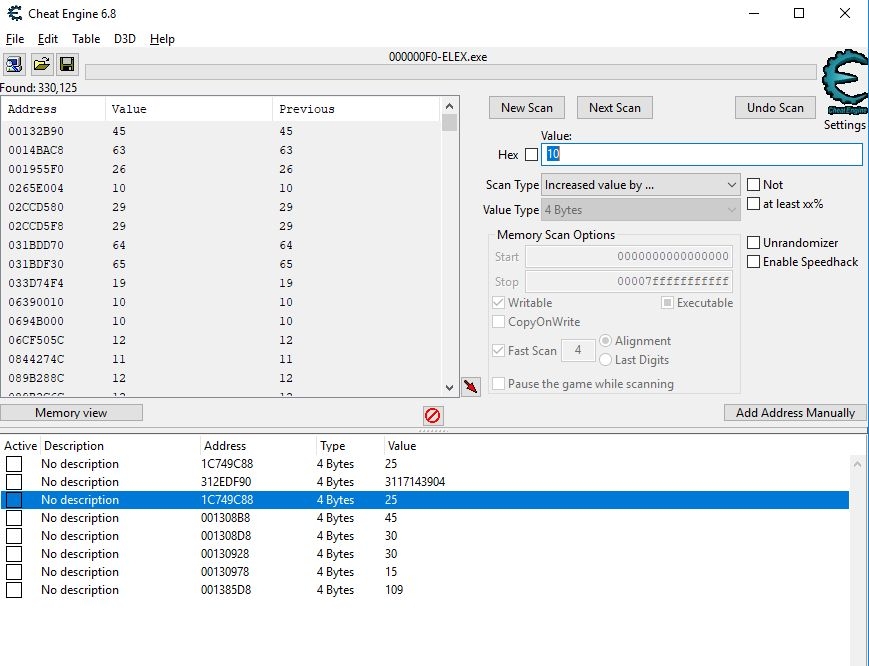 By using Cheat Engine, you can have a large amount of money, an infinite amount of energy, or a never ending ammo. You can also unlock weapons, skills, and armors. Cheat Engine does this by scanning the memory to find variables used in games and modifies any of the variables according to your preferences.
The interface may seem intimidating to novices but it is actually quite easy to use to manipulate games. There are many video tutorials too if you want to get a glimpse on how to use Cheat Engine before downloading it.
Because of how it works, your antivirus may scream at you when you run Cheat Engine. Rest assured, it is a false alarm. Some of the techniques it uses to gain access to the system are said to be similar to that of a trojan rootkit, so it gets flagged.
If you are still worried about the warning, the developer of Cheat Engine gives you one simple advice that every one can do easily. Don't use Cheat Engine. If you still want to use Cheat Engine, you can try to disable the antivirus' heuristic scanning or add Cheat Engine into the exclusion list of the antivirus. What if the antivirus still flag it afterward? Ditch the antivirus that cannot even recognize its own exclusion list and go look for another one.
As a popular tool that has been used by many users to manipulate games, Cheat Engine is certainly a controversial application. According to the official statement, users are not allowed to use Cheat Engine for activities that violate the license agreement of a game, but no one can stop you to do anything you want to do with it if you are not afraid of the risks no matter what the risks are.
Cheat Engine Free Download for Windows
If you have a plan to use Cheat Engine for multiplayer games, forget it. It is officially stated that Cheat Engine does not work on most online games. Even if you find a game that you can manipulate with the freeware, you shouldn't do it if you do not want to get banned.
You should only use Cheat Engine for offline single-player games that allow you to disassemble them. It doesn't matter if you use it for the sake of education or having fun, just don't use it on multiplayer games to prevent other players from getting upset, assuming that it works somehow. Using any cheat in a multiplayer game can really ruin the fun. You can click the link below to download Cheat Engine for Windows:
Editor: Clifford
App Info
App Name Cheat Engine
License Freeware
Publisher Eric "Dark Byte" Heijnen
Updated Jan 11, 2023
Version 7.4
High-quality software downloads
Anturis.com is your trusted source for software downloads.