ImgBurn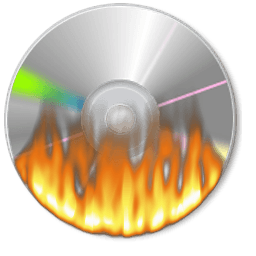 Windows 7, 8, 10, 11

Version:

2.5.8.0

Size:

3MB
ImgBurn is a feature-rich solution to burn your data to a removable media whether it is a DVD, HD-DVD, CD, or Blu-ray disc. Despite the number of features that exist, it is still easy to use as long as the users are not complete novices who don't know anything yet about what data burning is.
Small yet powerful. This is the phrase that fits ImgBurn well. It puts together all the functionalities you'd expect from a disc burning software in a package with size of only about 3 MB.
Features and Highlights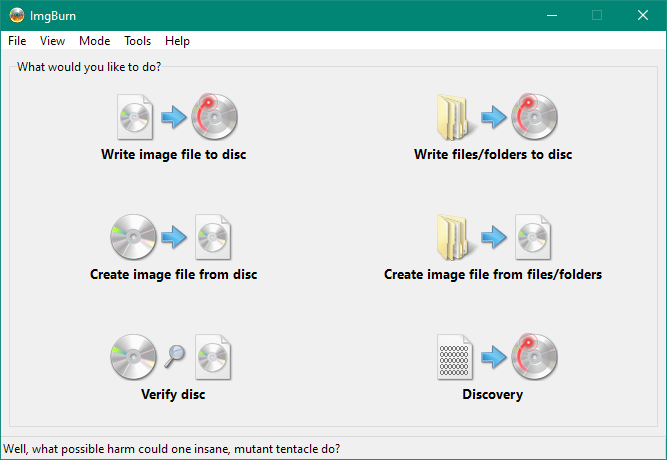 Aside from the typical installation options, ImgBurn also includes options to install for all users and enable SPTI access in remote sessions. Additionally, it can reset all of its settings back to the default state in case your tinkering with ImgBurn results in problems that you don't know how to fix.
If you want to associate ImgBurn with all the file types it supports, you need to open the Registry tab under its settings panel.
By default, ImgBurn shows a log window together with its main interface. The log window stays on top until you minimize it. If you try to close it, you will get a warning that you will miss out on important information. It can, however, be displayed again manually at a press of a hotkey whenever you want to.
Six tasks are listed front and center in the home screen of ImgBurn: write image file to disc, write files to disc, create image file from files/folders or disc, burn dummy data to the disc, and verify a disc to find out if it is fully readable or verify if the disc content is identical to an image file.

When there is any of the tasks that you need to run, just click on it, or press the associated keyboard shortcut, or press Alt + M to open the Mode menu and then select a task.

The home screen is named Ez-Mode Picker. You can easily return to the screen simply by pressing a keyboard shortcut, which is Ctrl + Shift + P.
ImgBurn is capable of creating a bootable ISO as well, including a bootable Windows ISO as long as you have all the required files and sufficient free disk space. There are dozens of tutorials around the web to create a bootable Windows ISO with ImgBurn in case you are interested.
If you have a rewritable disc, ImgBurn can erase the content. There are quick erase and full erase options, as well as SmartErase which is intended to prevent deleted data from being recovered.
ImgBurn Free Download for Windows
There is no doubt that optical media are continuing to be pushed down the popularity chart by cloud storages and flash drives, but if you still need to store files in DVD or Blu-ray disc, ImgBurn may be of a great help. While there are many alternatives that offer the same amount of features or perhaps more, ImgBurn is only about 3 MB of size, not to mention that it has a relatively more user-friendly interface than most of its kind. You can click the link below to download ImgBurn for Windows:
Editor: Clifford
App Info
App Name ImgBurn
License Freeware
Publisher Lightning UK
Updated Jan 10, 2023
Version 2.5.8.0
High-quality software downloads
Anturis.com is your trusted source for software downloads.