Folder Lock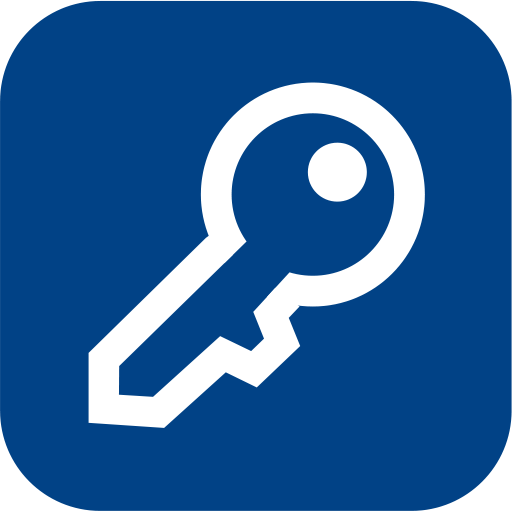 Windows 7, 8, 10, 11

Version:

7.8.9

Size:

9.7MB
Folder Lock is intended for users who urgently need to lock some folders that contain sensitive files. It blocks any unauthorized access to your files even if you store them in an external hard drive. No one else even knows that those files exist once you enable the protection.
In addition to locking folders and files, Folder Lock has more security features such as file shredder, history cleaner, portable locker, secure backup, and secure wallet.
Features and Highlights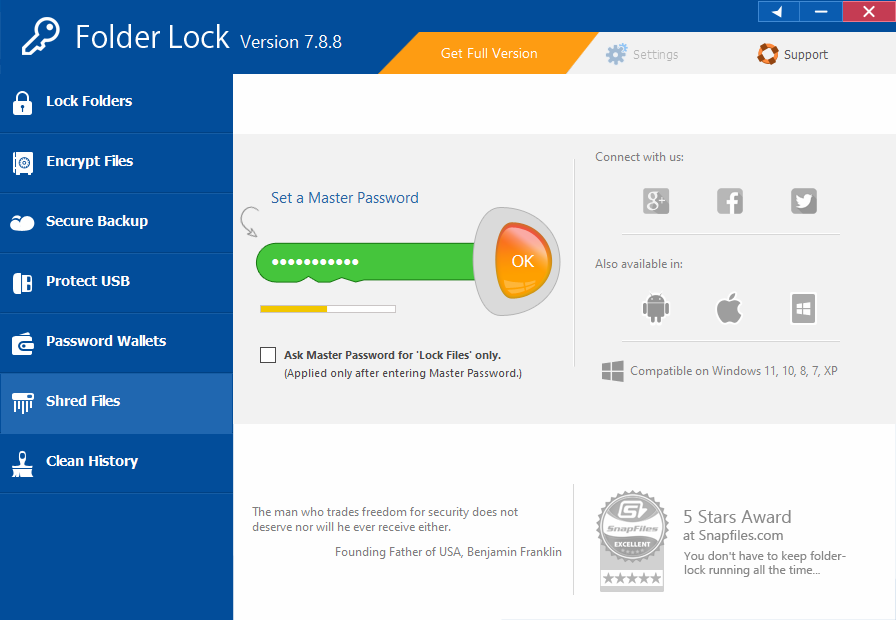 Folder Lock requires you to set up a master password when you run it for the first time. It rejects any attempt to explore its interface before you do that.
In order to lock a folder, you need to open Folder Lock, and then drag and drop the folder into its interface. Or, use the Add button instead.
The software doesn't add any option in Windows' context menu, so you won't be able to lock a folder by right-clicking on it in File Explorer. The lack of such option is less convenient but a bit more secure.
Folder Lock hides files and folders immediately after you lock them. The only way to see them is to open the software's interface.
To unlock a folder, open Folder Lock, right-click on the folder, and choose Unlock.
Folder Lock can automatically lock all of the unlocked folders and files once you exit the software, but you will have to enable the automatic lock feature first.
Another type of automatic lock is available that will execute a specific action when there is no keyboard or mouse activity for a certain amount of time. By default it is 10 minutes. The available actions to choose from are exiting the software, logging of Windows, or shutting down Windows.
One of the best features in Folder Lock is the ability to create a locker encrypted with the 256-bit AES technology. Every locker has a dynamic size which grows larger the more you add data in it. Every locker has its own password too.
There are two types of lockers. A portable locker and a basic one. The former can be transferred to an external storage media while the latter allows you to add data up to 14 TB.
Folder Lock can also be used as a virtual wallet in which you can create digital cards as many as necessary. For example, you can create a card to keep all the information related to your credit card. The wallet itself is protected by a password of your choice.
Folder Lock Free Download for Windows
Hiding and locking folders and files is as easy as creating an encrypted locker. The other security options, though, may need a bit of reading to understand how to use them. Folder Lock has a user guide that opens your default browser where you can seek the information regarding the features.
To make it as secure as possible from hacking attempts, Folder Lock can limit the number of incorrect password entries and execute an action after the limit is reached. You can click the link below to download Folder Lock for Windows:
Editor: Clifford
App Info
App Name Folder Lock
License Freeware
Publisher NewSoftwares
Updated Jun 17, 2023
Version 7.8.9
High-quality software downloads
Anturis.com is your trusted source for software downloads.