HDD Regenerator 2024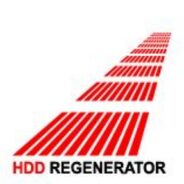 Windows 7, 8, 10, 11

Version:

v20.24.0.0

Size:

14.47MB
Bad sector is just one of the many issues that a computer user has to deal with patience. Most tools try to fix the problem by hiding the sectors marked as bad, but HDD Regenerator is claimed to be able to restore those sectors.
Even for damages that low-level formatting fails to fix, HDD Regenerator can handle them without negatively affecting the data stored in the hard drive. It is even designed to fix corrupted files to make them accessible again like the way they used to be.
Features and Highlights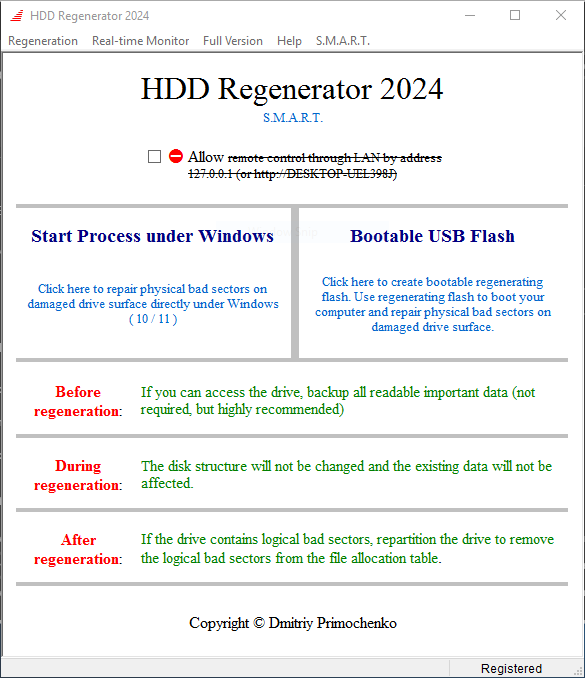 Ease of use is one of the main concerns in developing HDD Regenerator. Regardless of how powerful a solution is, only a fraction of users are capable of making use of it if the solution is too difficult to use for casual users. The developer has made sure that the software is easy to use for as many people as possible, including those who lack of experience of using such a repair tool. This can be seen from its interface that focuses more on functionality than appearance.
No data loss is the second advantage of using HDD Regenerator to repair a broken disk. The existing files are safe. If the damages cause some files to be inaccessible, HDD Regenerator will attempt to make them back to their prime conditions. Losing important data is undoubtedly unbearable, even the less important ones may take hours to collect them all, so this advantage makes HDD Regenerator a repair tool worth trying.
Repairing bad sectors is generally very time consuming. In order to save time, HDD Regenerator has this unique feature called Prescan mode which is specifically designed to search bad sector location more efficiently. And this is the third advantage of choosing HDD Regenerator to fix damaged hard drives.
HDD Regenerator shows notifications whenever certain important events take place. On its first run, it pops up a notification letting users know that the real-time monitoring is started. Users are also provided with a choice between creating a bootable flash drive or a bootable CD/DVD to repair bad sectors.
Users can also read some concise information written on the main interface about what should be done before starting the repair, what happens to the disk structure and the existing files during the process, and what the software do after the process.
Some options are only available in the menu of its tray icon which include the ability to disable the automatic launch at startup.
HDD Regenerator Free Download for Windows
A hard drive is a storage media used to keep files. It has a lifespan, but it could die earlier because of damages. Having bad sectors is a sign that a hard drive will probably die soon. With HDD Regenerator, while it is not a guarantee that your hard drive will be completely repaired, at least you still have a chance.
If it works, although you have to spare a considerable amount of time to repair the damaged hard drive, HDD Regenerator can save your money from buying a new hard drive for replacement. You can click the link below to download HDD Regenerator for Windows:
Editor: Clifford
App Info
App Name HDD Regenerator
License Freeware
Publisher Dmitriy Primochenko
Updated Oct 11, 2023
Version v20.24.0.0
High-quality software downloads
Anturis.com is your trusted source for software downloads.