Fraps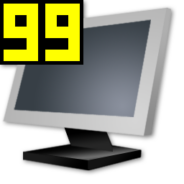 Windows 7, 8, 10, 11

Version:

3.5.99 Build 15625

Size:

2.2MB
Fraps has a screen recording function that allows gamers to show off their achievements or share interesting moments during their gameplays. It can grab images and show FPS in real time too.
Fraps is a freemium product. Its benchmark function is free, but the screen recording lasts 30 seconds only. On top of that, the output is watermarked. Also, the screen capture can only take screenshot in BMP images. The other supported image formats are only for registered users.
Features and Highlights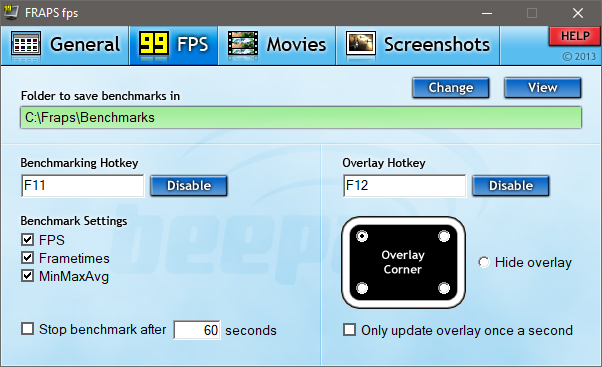 The Fraps user interface has four tabs: General, FPS, Movies, and Screenshot. Its window size cannot be changed. By default, its window is also always on top, which can be disabled by unchecking the appropriate checkbox in the General tab. There are three other options in that tab which you can enable to start Fraps minimized, run Fraps when Windows starts, and minimize Fraps to system tray only. The last option means that the program's icon will not be visible in taskbar and will only appear in the system tray area until you bring up the Fraps window again.
In the FPS tab, you will find a different set of options such as changing the location where the benchmark output is saved, the benchmarking hotkey, and the overlay hotkey. You can also choose where the overlay will be displayed on your screen when you are playing a game and set the benchmark to last 60 seconds or more.
The Movies tab is where all settings related to video capture are located. In that tab you can change the output folder and the capture hotkey; choose between 30 fps, 50 fps, 60 fps or custom fps; split the output every 4 GB; enable the sound recording; hide mouse cursor in video; lock framerate while recording; and force lossless RGB capture.
When you need to grab an image of your game, you can press F10 on your keyboard. The output will be saved to the specified destination. The default hotkey to take a screenshot and the output folder can be changed in the Screenshots tab.
In that tab, there are also options to include the frame rate overlay in the screenshots and repeat capture every 10 seconds, which can be ended by pressing the screen capture hotkey again.
Fraps supports BMP, TGA, PNG, and JPG image format, but only BMP is available for free users. If you try to enable the other file formats, you will get a notification message that the selected formats are only available for those who already pay the license.
Fraps Free Download for Windows
The paid version of Fraps costs $37. After you register the software, its limitations will be removed. If you're only interested in its benchmarking function or just want to display FPS on your game screen, there is no need to pay anything as these features are free.
If you need to record your video without time limitation and want to keep every single cent you have, you can try OBS Studio instead. It's a free and open source software. You can click the link below to download Fraps for Windows:
Editor: Clifford
App Info
App Name Fraps
License Freemium
Publisher beepa
Updated Jun 17, 2023
Version 3.5.99 Build 15625
High-quality software downloads
Anturis.com is your trusted source for software downloads.