Adobe Premiere Pro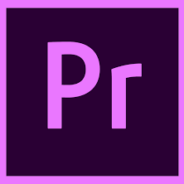 Windows 7, 8, 10, 11

Version:

22.6.2

Size:

1.5GB

Click to rate this post!

[Total:

171

Average:

4.2

]
Adobe Premiere Pro was released in 2003 for anyone who needs a decent video editing software for professional video editing. It has been recognized as a powerful non-linear video editing software with a set of industry-standard features and has been used for various large projects.
Adobe Premiere Pro supports dozens of video, audio, and image file formats that include but not limited to 3GP, AAC, GIF, H.264 AVC, HEIF, HEVC, MP3, WAV, MTS, MOV, Canon XF and RAW, Sony Camera files, BMP, PNG, JPG, TIFF, PSD, AAF, EDL, and EPS.
Features and Highlights
Adobe Premiere Pro workspace is made up of several panels that are carefully arranged to simplify video editing and boost productivity. What's more, it is not just one workspace. There are 15 workspaces available in the software.
A few of the workspaces are for general purposes while the rest are ideal for particular tasks. For example, the Captions and Graphics workspace is designed to work with graphics or captions and Production workspace works best for team collaboration.
You can switch from one workspace to another anytime you feel like it. To make it even easier, Adobe Premiere Pro lets you use keyboard shortcuts for switching workspaces, including the workspaces that you create.
Moreover, you can also import a workspace from a project. If you use the Production workspace to work on a project, for example, you can always open that project in the workspace instead in the currently opened workspace.
As a video editing software, Adobe Premiere Pro includes many effects to make videos more interesting to watch. There are Extracts, Levels, ProcAmp, Additive Dissolve, Inset Wipe, Page Peel, Center Split, and more. You can read the documentation to find out what each effect does.
Auto Reframe is perhaps a feature that many users appreciate. With this amazing feature, there is no need for you to manually resize videos for different social networks. It can automatically reframe your clips according to the specified aspect ratios while keeping the subject perfectly in frame. It is available as an effect that you can apply to an individual clip or a complete sequence.
With a highly flexible interface and a large number of cool features, it is no wonder that many people are huge fans of Adobe Premiere Pro even though the price is not an amount that every person can afford.
Adobe Premiere Pro Free Download for Windows
Just like any other software that has tons of features, it takes quite a lot of time to learn Adobe Premiere Pro. The good news is that the software, despite the heavy price tag, is a hugely popular one so it is easy to find tutorials on how to use it.
Before you look elsewhere, however, you should follow through the interactive tutorials that are presented by the Learning mode in Adobe Premiere Pro. Also, read the Adobe help page for more in-depth guide about the software. To get you started, you can click the link below to download Adobe Premiere Pro for Windows:
Editor: Clifford
How to Install and Activate Adobe Premiere Pro (Click Here)
Click to rate this post!
[Total: 171 Average: 4.2]
Click to rate this post!
[Total: 171 Average: 4.2]
App Info
App Name Adobe Premiere Pro
License Freeware
Publisher Adobe Inc.
Updated Aug 2, 2023
Version 22.6.2
High-quality software downloads
Anturis.com is your trusted source for software downloads.